Knowledgebase Home
>>
Help
Whenever I try and load RuneScape, I get this screen that says "Error_loader_savefile - Unable to save to cache."
This is because of the special data file RuneScape saves to your hard drive for high-definition play. SwiftKit doesn't have the necessary permissions to save that file.
To solve this, right-click the SwiftKit icon and select Run as Administrator.
To set this permanently..
1. Right-click the SwiftKit icon and select Properties
2. Choose the Compatability tab and check the box in Privilege Level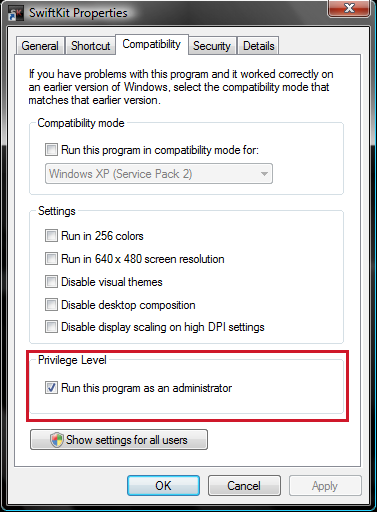 | | | |
| --- | --- | --- |
| | Article Options | |
User Opinions...
49%
51%
from a total of 55 votes.
How would you rate this answer?
| | | |
| --- | --- | --- |
| | Visitor Comments | |
matt

posted...
where is the swiftkit icon you have to rightclick, im getting confused
Mich

posted...
Thanks a lot, great that SK started this page automatically :)
Silverguy (Staff)

posted...
The sk icon is the thing you click to start sk.
blake123134

posted...
my will not load when i click icon it says Navigation to the webpage was canceled and i ran the test and it said i failed both what do i do ?